Description

Euroto's Luxury Smart Toilet Seat Cover will let you truly relax during all your bathroom visits. Its clean and comfortable design features combine into a wonderful experience, and the sheer amount of features is more than most other products on the market. Your seat can be warmed to a chosen temperature. A bidet nozzle with customization pressure, temperature, and position will wash away every smudge. It'll even give you cleansing massages, while a dryer can wrap things up at the end. An air purifying deodorizer absorbs the undesirable odor. Dual user memory makes different users save personal settings. The remote control is the source of activating most of these amazing choices. It'll let you adjust things to your personal comfort level. Few other toilets can compare to the vast wealth of convenience provided by this luxurious product.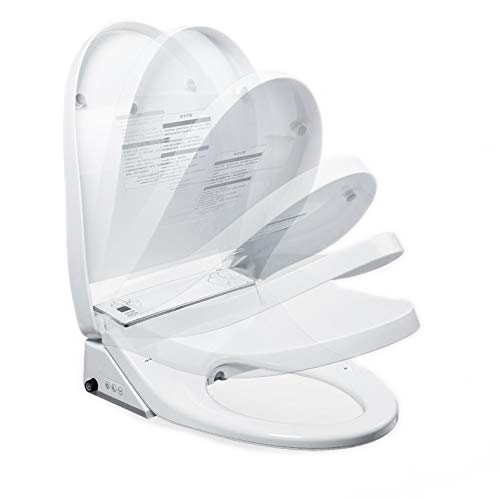 European Design and Innovation in the Comfort of Your Home
All the Features You Imagine in One Model

Posterior Wash is for the back and Feminine Wash is a gentler, wider wash for ladies. Having constipation problems?  Press the massage button to enjoy water massage which relax muscle to help relieve constipation

Unlimited Warm Water. The

Instantaneous Water Heating System makes the water warm instantly and continuously at – your desired temperature. It avoid bacteria breeding and cold water shooting up butt in the mornings or winters! Enjoy this experience without worry about the cold and bacterial water.

DUAL USER MEMORY – Allows different users to save personal settings, programmable user settings. Enjoying one-touch auto mode for heating, washing and drying.

EXTENSIVE FEATURES: Posterior wash, feminine wash, heated water and seat, unlimited warm water, oscillating wash, warm air dryer, Wireless Remote Control, adjustable water pressure, built-in water filter, automatic LED nightlight, Self-cleaning nozzle, safety on/off skin sensor, soft-closing lid and seat, power saving, quick-release seat for easy cleaning. Elongated front EUROTO bidet toilet seat with mounting and connection hardware included.

SPECIFICALLY DESIGNED FOR ROUND OR OVAL TOILETS

: sleek shape for the best toilet fit.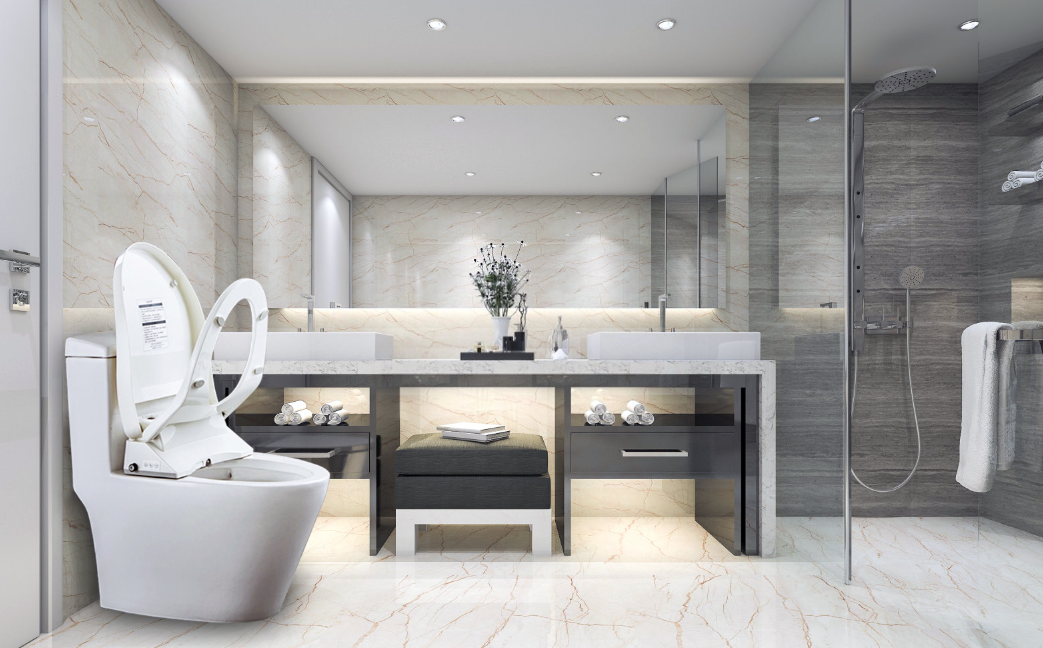 EXTENSIVE FUNCTION
Rear Cleansing- Provide rear cleansing, 

Posterior wash, feminine wash, turbo wash

Dual User Memory – 

Allows different users to save and programmable user settings and one-touch auto mode for him and for her

Temperature Control – Adjust seat and water temperature

Adjustable Water Pressure – Adjust water pressure for washing

Seat Sensor – Function activated by sitting on the seat

Heated Seat – Make you feel comfortable and warm during cold weather

Warm Air Dryer – Dry the users after cleansing

Drying Intensify Control – Adjust drying temperature

Energy Saving – Electricity saving system

Nozzle Self-Cleaning – Nozzle spray out water for cleansing

Anti-Collision with Silence – Install damper inside to close gently

Smart Remote Controller- Allow the user to operate the toilet from a comfortable position

Water Pressure Adjustment – 4-grade water pressure can be adjusted

Nozzles Postilion Adjustment – 5-grade cleansing position adjustment

Indicator Light – Power indicator, seat temperature indicator, water temperature indicator, seat indicator, power saving indicator
Clean

Nozzle self cleaning-clean nozzle automatically before rear and feminine wash.
Deodorizer works automatically once you sit on the toilet seat.

Remote control

Dual user memory – Allows different users to save personal settings and one-touch auto mode for him and for her
Temperature Control – Adjust seat and water temperature
Adjustable Water Pressure – Adjust water pressure for washing
Warm Air Dryer – Dry the users after cleansing
Drying Intensify Control – Adjust drying temperature
Water Pressure Adjustment – 4-grade water pressure can be adjusted
Nozzles Postilion Adjustment – 5-grade cleansing position adjustment

5 IN 1 NOZZLE

Rear Wash
Feminine Wash
Oscillating Wash
Water Pressure Control
Massage Wash

Installing the Toilet Seat

Remove original toilet seat if needed

Install the fix bracket

Put the fix bracket and metal brackets on the toilet and start to install

Insert the mounting bolts into the bracket and tighten the screws

Push the toilet seat slipping into the fix bracket and fix it
EXTENSIVE FUNCTION
Rear Cleansing- Provide rear cleansing, 

Posterior wash, feminine wash, turbo wash

Dual User Memory – 

Allows different users to save and programmable user settings and one-touch auto mode for him and for her

Temperature Control – Adjust seat and water temperature

Adjustable Water Pressure – Adjust water pressure for washing

Seat Sensor – Function activated by sitting on the seat

Heated Seat – Make you feel comfortable and warm during cold weather

Warm Air Dryer – Dry the users after cleansing

Drying Intensify Control – Adjust drying temperature

Energy Saving – Electricity saving system

Nozzle Self-Cleaning – Nozzle spray out water for cleansing

Anti-Collision with Silence – Install damper inside to close gently

Smart Remote Controller- Allow the user to operate the toilet from a comfortable position

Water Pressure Adjustment – 4-grade water pressure can be adjusted

Nozzles Postilion Adjustment – 5-grade cleansing position adjustment

Indicator Light – Power indicator, seat temperature indicator, water temperature indicator, seat indicator, power saving indicator